Passenger Safety
The graph below shows the proportion of respondents who "always or usually feel safe" at the specified times/locations on the bus system. The responses were to the following prompt in the Transperth Passenger Satisfaction Monitor: "How safe do you generally feel from personal interference or threat from other passengers?"
The results for the past five years show that almost all bus passengers generally felt safe on board buses and at stations/interchanges during daytime. The proportion of users who generally felt safe at night both on buses and at stations/interchanges remained relatively stable.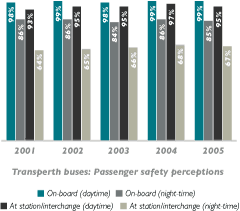 These results are partly attributable to the following measures now in place to promote passenger safety on the bus network:
two security officers Thursday to Saturday of each week at each bus station from 2pm to time of last bus;
mobile patrols on each of the three major sectors - north, south, and east; and
centrally-monitored CCTV at all bus stations.
FERRY SERVICES
Description of Services
The Transperth ferry services were competitively tendered in 1995. They are currently provided under contract by Captain Cook Cruises
Two vessels operate between the City (Barrack Street) and South Perth (Mends Street).
The Year's Developments
Services to the non-accessible jetty at Coode Street in South Perth ceased on 30 April 2005 due to low patronage, and resources were reallocated to improve services between Barrack Street and Mends Street.The new timetable for the Barrack Street-Mends Street route introduced on 1 May 2005 increased the number of services on an average weekday from 60 to 80.

The vessel Shelley Taylor-Smith provided most Transperth ferry services